Well, if you're going to get knocked down by a cold now's the time to do it I supposed.  I fought the darn thing as long as I could and then it decided to fight back.  Argh…. I'm dying….  almost.  I think I'm on the mending, but it's been a couple days of staring at my covers.
Anyways!
It's almost my birthday.  In my head I some how missed passing the ages of 28 and 29 (thanks to a particular little boy), so my head always thinks I'm about two years younger than I'm turning.  Seriously, I have to ask my husband how old I actually am (I also need to ask him which day we actually got married on, but that's neither here nor there).  So in my head I'm turning 30 on Saturday!  In reality, I'm two years older than that.
In a grand attempt to not let the last two years of fertility issues get me down I've spoiled myself.  I have a few new pieces of clothing in my closet (that have no thought about their ability to double as maternity items), I have a stash of yarn and a few extra pretties around my house thanks to my allotted birthday money.  I need to do somethings just for me this year, because I'm still here and so are my husband and my son.  I need to enjoy who I am and exactly what I have, in the house that I live in, in the body that I have, in the circumstances that are mine.  I'm still optimistic about our future as a family of more than 3, but I need to remember to live for what has already been given to me.  God has been very good to me and I shouldn't let my wants cloud that.
Anyways!
I always loved the Hobbit example of a birthday party – presents and a party for the others in our lives.  So when Hannah from EweFluffyEwe offered to do a review/trade of some of her beautiful yarn I knew it was the perfect opportunity.
Hannah sent me her handspun "Marianne Dashwood" fingering weight yarn and as you can see I'm a little more than halfway done making my third set of Hermione Socks.  The yarn had a little more brown in it than I was expecting, but that ended up working perfectly in my favor – the color way is perfect for my limit wardrobe color scheme and it's repetition is perfect for self striping socks.  I did originally try out the yarn in a shawl pattern, but it did nothing for the natural pattern in the yarn so I switched to socks which was a perfect choice.
It is lovely yarn, and how often can you say you know the names of the sheep that your socks came from!  (My socks were made from Annabelle, Barnaby, Digory and Dodge.)
It is handspun and handdyed so if you're new to handmade yarn you'll need to prep yourself for small inconsistencies in yarn and dying pattern, but any lover of handmade wool products can tell you that that is part of the charm.
Hannah has been a delight to get to know, I'll share her story in her words here:
"
It all started with a field trip to the Wool Festival in Falmouth KY…
My mother taught me how to knit in highschool. I hated it. It took a broken foot and complete boredom to convince me of the awesomeness of knitting. 🙂 I love knitting now. 
So, we went to the Wool Fest. I saw sheep and spinning and knitting and I thought, "That's what I want to do with my life!" Ultimately, I believe that my goal in life is pleasing the Lord and living a life that is honoring to Him. I am thankful for His mercies that are new every morning. He is so patient with me! He has blessed our farm abundantly! 
So, I got two bottle baby lambs. I am forever grateful to Mrs. MacDonald for her kindness and encouragement. She still let me take those baby lambs even though I had no idea what I was doing. And I have an idea that she knew that too. Through her help, my parents help, reading tons of farm literature, and blessing from the Lord; we have a small but growing and thriving farm. We are still growing and learning. It's a process. We have 7 sheep, 4 alpaca, lots of chickens, and bees. I'm reading about milk cows, but mama is not too keen on the notion. at least not yet. 🙂
I live at home with my parents and brothers on our farm. I'm learning what it means to be content. I'm learning to be a farmer. 🙂 "
So in honor of Hannah's generosity and my upcoming birthday I'm excited to offer something to one of my readers!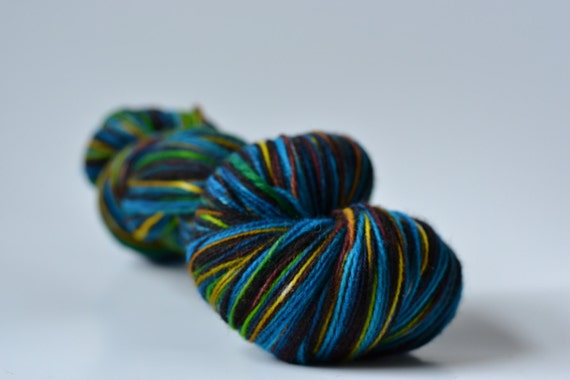 All you need to do is leave a comment to be entered!
And in the words of Mr. Baggins
"I don't know half of you half as well as I
 should like; 
and I like less than half of you half as well as 
you deserve."
*Hannah provided be with Marianne to knit with in exchange for a review, opinions are my own.  Eleanor is my gift to you – because I love you ;)*
The give away will end on March 7th and I'll announce a winner on March 8th!
Linking up with Frontier Dreams KCCC and the Yarn Along